We're itching to get out into the natural world. Just like many of you, much of our team cannot wait to get back outside. Thankfully, our beautiful country is bursting with staggering displays of natural wonder. And although international travel may not be available to us for a while yet, we know when it is safe to do so, we have access to some of the world's most impressive hiking trails.
For many of us, the last 18 months have bought with them a stark disconnection to nature, social isolation, increased screen time and general unease and stress. With the endless physical and emotional benefits of being outdoors, we know nature will play a vital role in the recovery of our nation and will support the health and wellbeing of our young people. So, we thought we'd share out favourite spots for bushwalking across our country for you to enjoy with family and friends once you are able to.

We hope to see you on the trails!
NEW SOUTH WALES
THE GREAT NORTH WALK
For us, the winner in New South Wales has got to be the 250km Great North Walk; this mammoth multi-day hike was created in 1988 and links Sydney with the Hunter Valley and Newcastle. It provides an unforgettable display of some of the best scenery New South Wales has to offer.
Beginning at the zero-mile obelisk in Macquarie Place near Circular Quay, the track follows the Lane Cove River and Berowra Creek valleys out of Sydney, heading north of the Hawkesbury through the Central Coast hinterland and Watagan Mountains before crossing back to the coast north of Lake Macquarie for the final leg through the Glenrock State Conservation Area into Newcastle.
PICK YOUR PATH
Now, we're not suggesting you should set off on a 16-day trek, although it does sound good to us! The Great North Walk can be broken into 6 smaller 1 – 2 day hikes or conquered in much smaller sections passing through many vantage points.
The Sydney to Boronia Park walk will take around 6 hours and is the southernmost stretch of the Great North Walk. This section will allow you to enjoy much of your time exploring the historic urban areas around Woolwich and Hunters Hill.
For those who enjoy views of calm, still waters, the hilly Hawkesbury section of The Great North Walk provides stunning views of the beautiful Berowra Waters valley. Enjoy a wonderfully remote section of bushland with many creek crossings along the way. Choose from various walks between 3.5 and 8 hours in length.
We particularly love the Hawkesbury region. In fact, you'll often find us canoeing on the Hawkesbury River, if you don't bump into us on the trails!
The Great North Walk will lead you through rare Blue Gum forests, tumbling waterfalls, windswept, sandstone caves, sheer river gorges and charming waterside communities.
Simply put, we love The Great North Walk for how grand it is!
Catherine Pervanoglu, Duke of Ed Coordinator, says, " I really like hiking the Berowra Waters section of the trail. The scenery is breathtaking and varied with amazing views out over the inlets and forests. Crossroads is a favourite with students as it has proper toilets and flat camping. And the bonus is that everywhere can be accessed by public transport."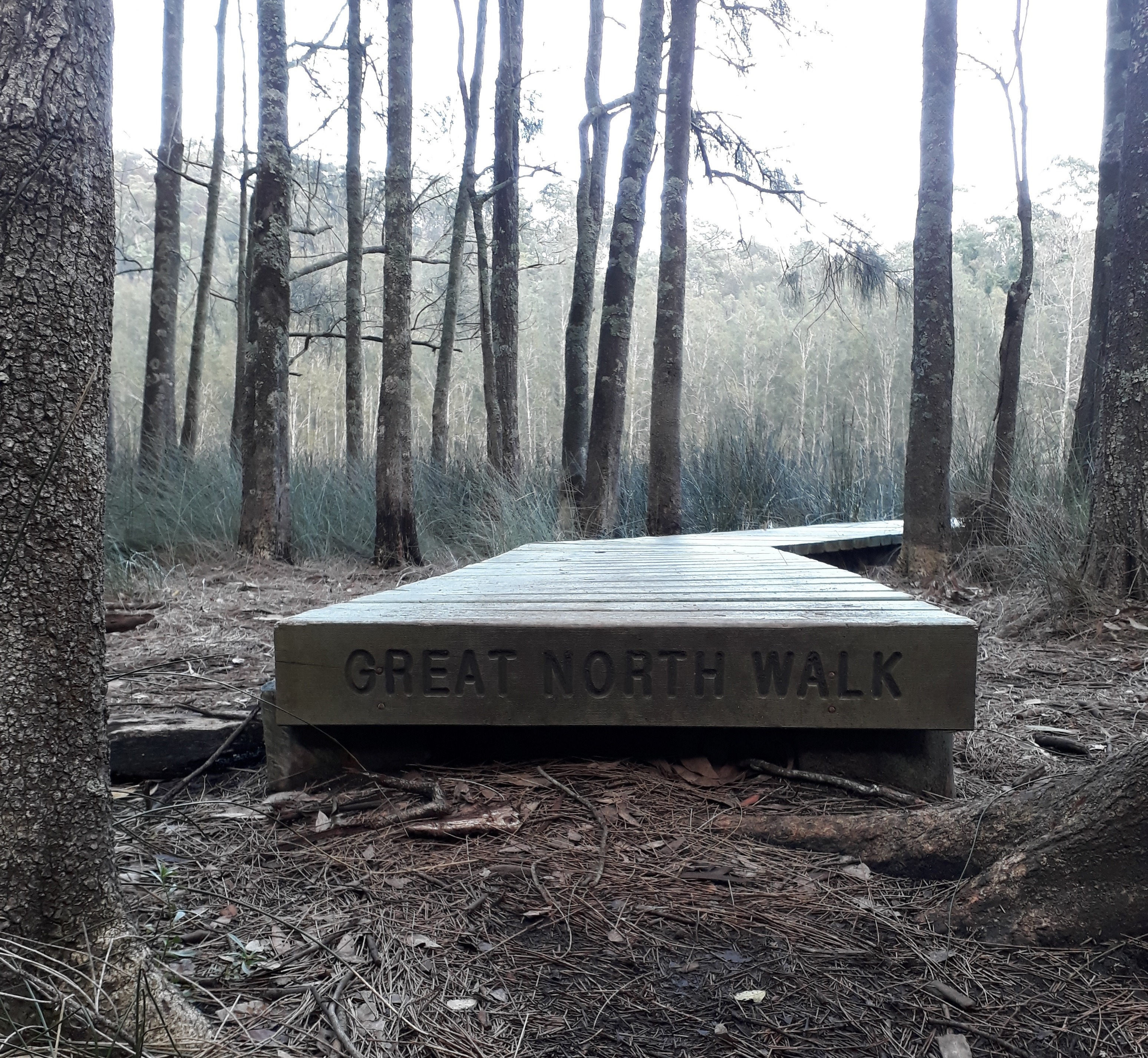 Photo by Rebecca Bailey.
WESTERN AUSTRALIA
THE CAPE TO CAPE TRACK
For our team in Western Australia, it was an easy choice! 135km in length, The Cape To Cape Track is a walking trail linking Cape Naturaliste in the north (near Dunsborough) to Cape Leeuwin in the south (near Augusta), featuring incredible coastline views.
The track itself can be walked over any length of time (or even run - our own David Scott and Angus Angiolella ran it in 2 days). There are campsites along the length of the track, some for groups and many more for individuals who are walking the trail.
The traditional custodians of this land, the Wardandi people, used The Cape To Cape Track for thousands of years. For the Wardandi, who migrated seasonally between the coast and the hinterlands and knew the region very well, the coast formed a significant part of their story and provided them with all they needed.
The entire coastline and much of the limestone ridge behind it is now the Leeuwin-Naturaliste National Park. The area features a geological base of gneiss granite which is older than 600 million years and is covered by a much younger (2 million years old) consolidation of sand-blown dune deposits known as Tamala Limestone. This combination of rock means, topographically, the coastline is rather varied.
You'll also see the 35-metre high sea cliffs of granite along the track at Wilyabrup; this is our prime abseiling and climbing area. Wave if you see us!
IT'S ALWAYS AN ADVENTURE
The Cape To Cape Track still surprises us. Every day has something different in store for us. Some days we might spot dolphins in the waves close to shore, whales far out to sea as they migrate north to give birth or south to return to the cooler waters with their offspring or rolling swells breaking far out to sea, attracting big-wave surfers from around the world. Some days the ocean appears silent, calm and flat. On other days, it's wild and unpredictable, reminding us why so many early European sailors ended up shipwrecked on its coastline. It's on these stormy days, seeking shelter in amongst the weather-gnarled trees down by the coast can provide one of the better camping experiences.
We conduct bushwalks with young people along parts of The Cape To Cape Track and there are many challenging walks and varied terrain as well as some very picturesque and breathtaking views. When you explore the sections of the track guiding you along the coastline, with its high cliffs and sweeping views, you'll understand why we consider this unspoilt area one of our most loved bushwalks in Western Australia.
Mark Heyink, Program Manager, says, "Whichever route you take, the Capes have something for all and can be enjoyed by anyone whether you are active or just sit in contemplation staring out to sea as I have done on many occasions."
VICTORIA
BOGONG HIGH PLAINS
Mt Bogong - the highest mountain in Victoria, weathered historic huts, roaming brumby and regenerating fire-damaged snow gums - we love the Bogong High Plains because the area reminds us of the living and enduring spirit of the natural world.
The Bogong Alpine region offers various walks to enjoy, from well-beaten paths, easy 30-minute strolls past scenic vantage points to cross-country bushwalking and challenging overnight hikes.
We love the changing rugged landscape here as we pass rustic high country huts, follow steep trails in and out of dramatic valleys and explore mountain rivers and undulating plains covered in wildflowers. To us, it has always felt like a mysterious place, with secrets to uncover.
WALLACE'S HUT
The High Country huts, some dating back to the 1860s, are historical monuments nestled in the spectacular Alpine National Park.
Made from snow gum and woollybutt, Wallace's Hut was built in 1889 by the Wallace brothers and is one of the oldest mountain huts in the Alpine National Park. For easy access, drive out past Windy Corner and across the Rocky Valley dam wall until you see the signs to the hut. Park your car and enjoy an easy and scenic 750m walk to the hut.
Remember, as with all huts in the High Country, minimise impact and respect tradition by camping outside them. Keep them available for severe weather and emergency accommodation.
Though much of the natural vegetation was burnt in the 1939 bushfires and subjected to widespread damage in the 2003 fires, the area remains a prime habitat for many threatened and endangered animal species, such as the smoky mouse, the broad-toothed rat, the powerful owl, and the she-oak skink.
The rare mountain pygmy possum, the only exclusively alpine marsupial to store food to last it throughout the winter, is also found amongst the slopes of the Bogong High Plains. If you're lucky, you might also catch a glimpse of the wild brumbies roaming the plains.
Snow gums and mature alpine ash forests stretch over the slopes of the region. 12 plant species present here are found nowhere else in the world, including the Bogong daisy-bush and the silky daisy.
MOVING THROUGH THE LANDSCAPE
For over 21,000 years, this region was home to many Indigenous groups, including the Dhudhuroa, Gunai-Kurnai, Taungurung, Waywurru and Yaitmathang peoples, to name a few.
These groups would move within the landscape as the seasons changed. During summer, they would ascend to the peaks of the ranges to perform ceremonies and to access wild game.
The Alps marked the central point where it was believed the sky was held up by wooden pillars carefully maintained by supernatural beings. They were also home to spiritual elders living in stone houses, who dedicated themselves to ceremonial song-making and storytelling.
Fascinating! This area truly is special!
Sammie Janky, Client Program Manager, says, "Walking amongst the snow gums and historic huts across the expanse of the Bogong High Plains is a memory I'll always hold dear. There's a challenge level to suit everyone, from flat loop walks to summitting the tallest Mountain in Victoria, Mt Bogong. There's nothing else quite like it."

SOUTH AUSTRALIA
DEEP CREEK CONSERVATION PARK
Deep Creek Conservation Park is the largest portion of remaining natural vegetation on the Fleurieu Peninsula and it is our favourite spot for a bushwalk in South Australia.
Located within 100km of Adelaide, Deep Creek is a perfect destination for a day trip or weekend getaway. And we should know, we run programs here year-round!
The biodiversity on show in Deep Creek is something special. In contrast to the cleared farmland further inland, Deep Creek proudly displays hillsides covered in grass trees - the resilient iconic native epitomising the Australian bush, rolling valleys and rows of towering eucalypts.
The creek systems within the park, particularly those flowing all year round, support unique vegetation in the steep, moist gullies. Ferns and other shade plants grow here in specialised habitats, not well represented elsewhere in South Australia.
The area is home to an exciting variety of native wildlife such as western grey kangaroos, short-beaked echidnas, blue tongue lizards and 100 species of birds you'll be sure to hear while exploring the tracks.
Deep Creek Conservation Park lies within lands traditionally owned by both the Ramindjeri and Kaurna Indigenous people. The region comprises a transition area where the boundary of the Kaurna people of the Adelaide plains meets Ramindjeri territory.
These groups did not have to move around as much as groups located inland because the Fleurieu Peninsula provided everything they needed. Native fruits, nectar, edible roots, seeds and other plants were gathered, while possums, frogs, snakes, lizards, fish, birds and kangaroos were hunted.
THE DREAMING
The reason Deep Creek makes the top of our list is not only because of its dazzling biodiversity but because of its importance in our nation's history. Dreaming stories from both the Ramindjeri and Kaurna Indigenous peoples illustrate their deep spiritual connection to the land here. The creation of land formations on the Fleurieu Peninsula are described through Dreaming stories. The Kaurna dreaming story of Tjilbruke explains the creation of the western side of the Fleurieu Peninsula and locations such as Blowhole Creek, feature in legends of the Dreamtime hero Ngurunderi and tell the story of the formation of Kangaroo Island.
Deep Creek Conservation Park features 5 campgrounds and 15 walking trails, providing incredible views of Backstairs Passage, Kangaroo Island and the rugged Deep Creek Valley. The walking trails range from easy to very difficult and many include sections of the famous Heysen Trail. Do not expect a flat walk. After all, we are in it for the hills so we can enjoy the view from the top!
OUR TIPS
The Deep Creek Circuit can be walked clockwise or anti-clockwise from either Trig Campground or Tapanappa Campground. Consider heading out clockwise if you're looking for a more relaxed bushwalk; in this way, the steep sections are downhill. You know what to do if you're looking for more of a challenge!

Be sure to visit Deep Creek between June and October. You might be lucky enough to spot whales during their annual migration.
Bryce Turnbull, Program Coordinator, says, "'Deep Creek has some awesome bushwalking gems tucked away and offers up stunning vistas and hues of blue that would be at home in any Turner landscape. It's never boring to tramp, and seclusion is easily found in hidden coves and bays. The natural fauna and wildlife make it even more interesting.'"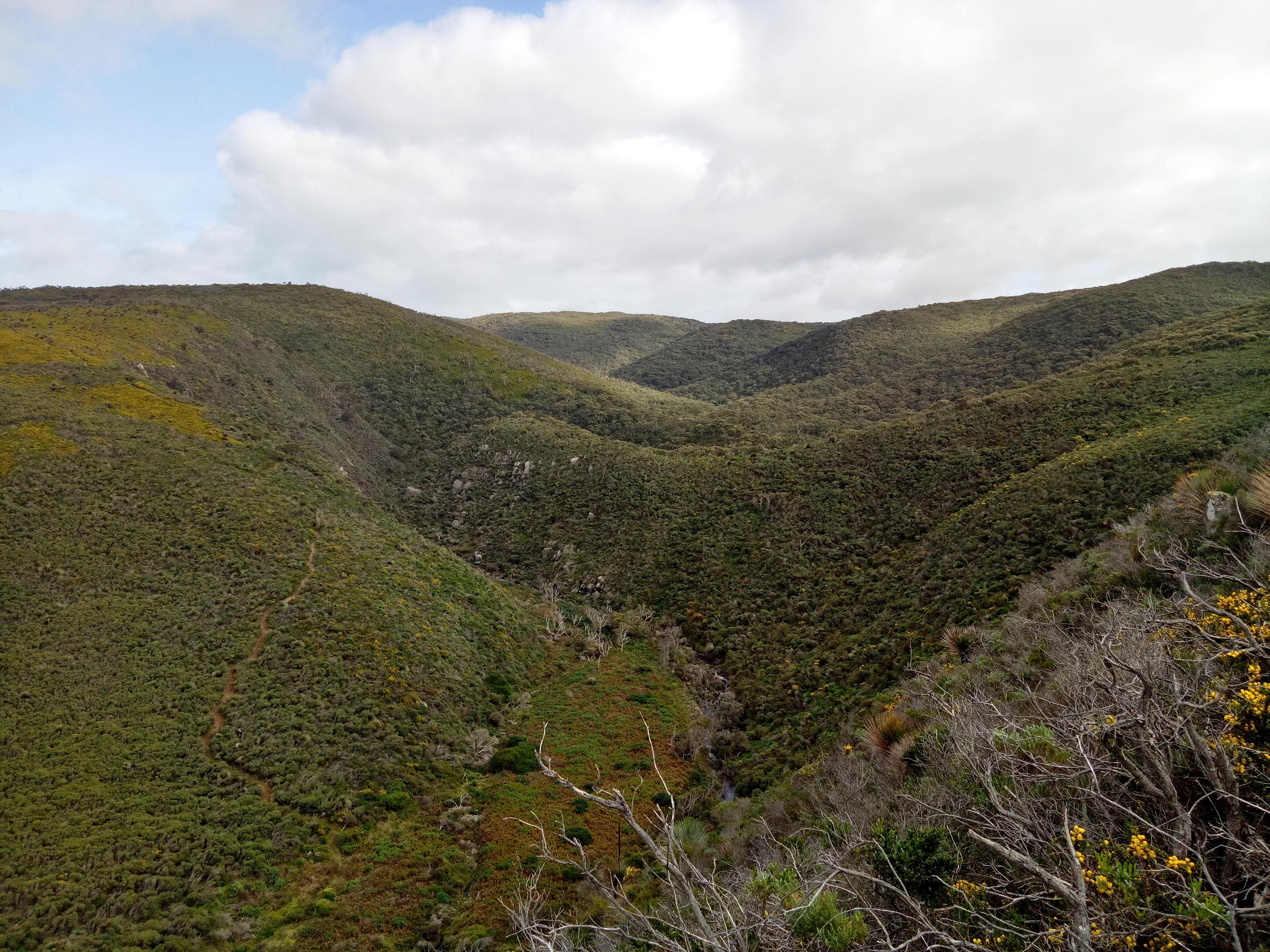 Photo by Bryce Turnbull.
BEFORE YOU BEGIN YOUR ADVENTURE
Before heading out, make sure you are well prepared, pack essentials, check weather and trail conditions and let someone know where you are and when you expect to return. Don't forget to practise the 7 Leave No Trace principles when you're enjoying the outdoors.
JOIN US
We're fortunate enough to visit these unique locations with students eager to explore them. Seeing our favourite spots through the eyes of enthusiastic students makes our journeys all the more memorable.

The Outdoor Education Group's multi-day journeys explore iconic Australian landscapes and environments while supporting student growth and development through powerful learning experiences. Your students are empowered to think critically about self-management practices, develop confidence, resilience and adaptability and understanding their impact on the natural world.

Find out more about multi-day journeys for your students.