At The Outdoor Education Group, our values support our vision, shape our culture and reflect what we, as an organisation, strive towards. Our values paint a picture of our philosophy and reflect the principles The Outdoor Education Group was built on more than 36 years ago.
OUR VALUES ARE OUR COMPASS
Our purpose is to make outdoor education accessible to all young Australians. But how do we make this happen?

At The Outdoor Education Group, we have been exploring our values. Our purpose defines why we do what we do, and our values determine how we operate in support of our purpose.

Our values are not only about collective behaviours; they reflect individual behaviours as well. In a national organisation, shared values are a powerful reminder no one person can achieve everything on their own. In this way, our values foster connection and trust; they unify us and create a shared sense of commitment.

Our values light the way for each team and individual; they serve as a compass, guiding our decision-making and growth.
THE FOUNDATION OF OUR VALUES
Defining our values has been a process of engaging our teams across all parts of the organisation. To define our values, we have run workshops, gathered feedback from surveys and facilitated discussions at Team Days. More recently, a workshop was held with the Senior Leadership Team to discuss the behaviours underpinning our values and how we can translate these into 'Culture Commitments'.
Our values align with our purpose, enabling us all to recognise how they propel us forward day-to-day. Put simply: our values reflect the way we do things at The Outdoor Education Group.
Hailey Donahoo, Head of People and Culture at The Outdoor Education Group, says, "Our values are exciting because they clearly define what we all stand for. They are the cornerstone of how we all behave, which means we can recognise and reward those living our values in extraordinary ways. Our values underpin every decision we make and ensure we are all heading in the same direction; towards making outdoor education accessible to all young Australians."
OUR VALUES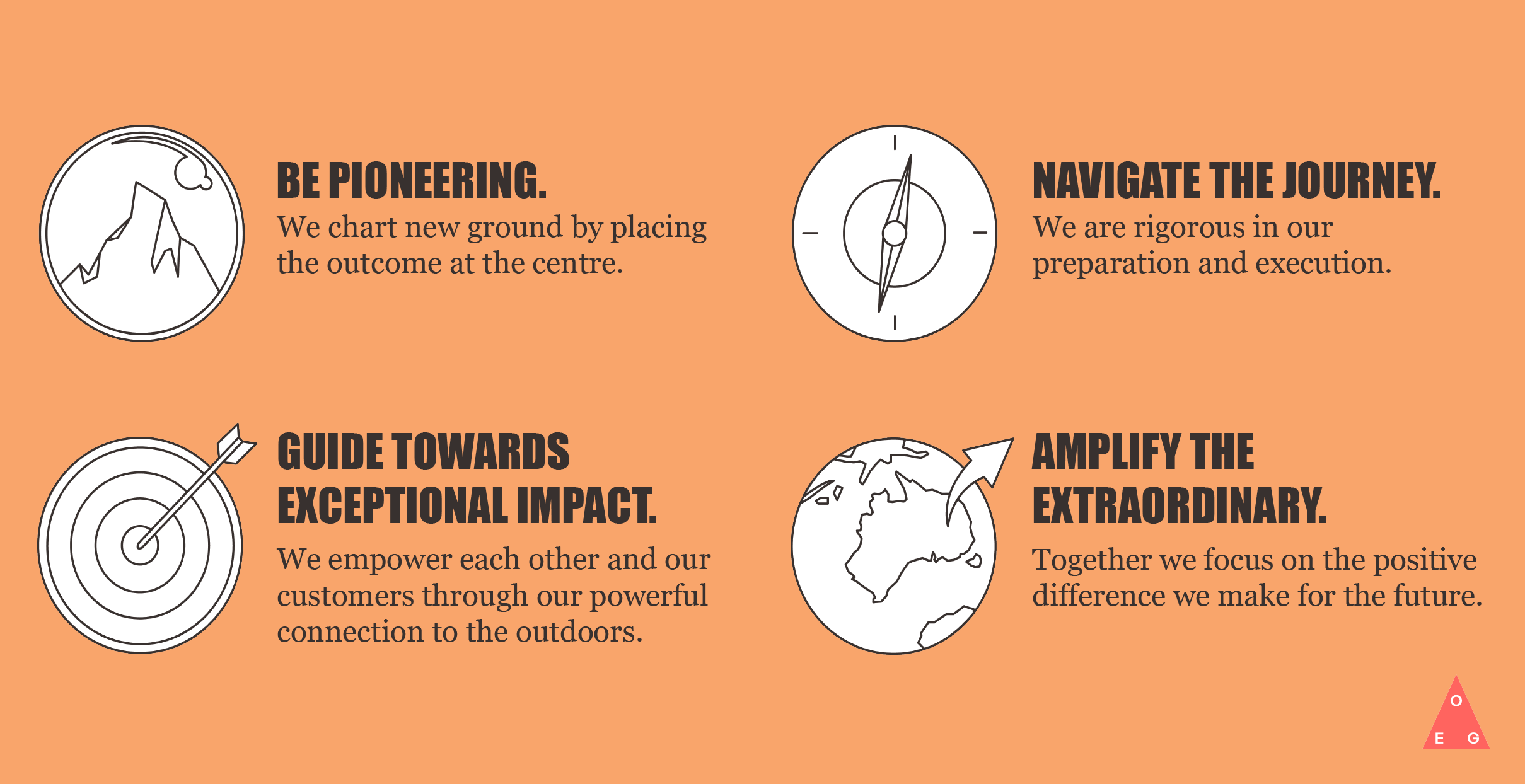 BE PIONEERING
WE CHART NEW GROUND BY PLACING THE OUTCOME AT THE CENTRE
When we place the outcome at the centre, we also place the learner at the centre; this doesn't always mean we need to create a program bigger than the last one. It means we focus on the experience of the individual and craft meaningful moments allowing each young person to achieve personal development and growth, no matter their experience or background.
We are pioneering in the ways we contribute to the broader outdoor education community. The Outdoor Education Group is a large national organisation; this means we feel we have a responsibility to contribute to our sector, helping develop risk mitigation systems everyone working in the outdoor industry can benefit from. We contribute to peak bodies such as Outdoors Victoria and Outdoors New South Wales, helping shape the industry beyond our organisation.
We look for opportunities to innovate and modernise how the outdoor industry operates, and we are always looking for new ways to get more young Australians learning in the outdoors.
NAVIGATE THE JOURNEY
WE ARE RIGOROUS IN OUR PREPARATION
We truly understand the importance of preparation. 70% of all the tasks we complete in a program's life cycle, from conception, planning, and delivery to feeding back insights and learnings, are the planning and preparation components; this highlights our focus on ensuring we can deliver quality programs through meticulous planning.

Navigate the journey is the steady progress we make daily to communicate with our clients and ensure we are prepared for all students joining us in the outdoors.

Navigate the journey is also about our ability and experience in managing change, navigating the ups and downs concerning our environment, our clients and the challenges we face in the field. Our adaptability allows us to flex and shift in response to external factors. We rally to respond quickly to all situations and manage the safety and wellbeing of students and our team. For example, we have moved programs and resources to ensure delivery around fires, floods, severe weather and through the COVID-19 pandemic.

Navigate the journey means we consistently support our team and their development and progression through our organisation. We have a skills framework mapping out progression in line with experience and capabilities. As we progress through each year, team members can participate in the development of education, leadership and technical skills.
GUIDE TOWARDS EXCEPTIONAL IMPACT
WE EMPOWER EACH OTHER AND OUR CUSTOMERS THROUGH OUR POWERFUL CONNECTION TO THE OUTDOORS
We believe all young people have the potential for greatness within them and we feel it our responsibility to bolster and encourage them towards their own personal greatness. We use the outdoors as a vehicle for impact because we know how powerful experiential learning in the natural world is.
Learning in the natural world provides young people with endless benefits. The outdoor environment encourages problem-solving, collaboration and negotiating risk, which are essential for child development. Furthermore, experiential learning in the outdoors allows students to take what they have learnt in the classroom and put it into practice in a safe, inclusive environment offering instant feedback for them to contemplate.
We celebrate each Outdoor Educator's unique contributions; we empower them to have confidence in their approach and allow them space to create meaningful connections with every young person who joins them in the outdoors.
AMPLIFY THE EXTRAORDINARY
TOGETHER WE FOCUS ON THE POSITIVE DIFFERENCE WE MAKE FOR THE FUTURE
We have the good fortune of seeing the positive impact we have on young people every day. We see it because it occurs right in front of our eyes! While these young people's experiences with us are contained within a program, we know the skills, learnings and personal growth they achieve with us contribute to shaping who they will become.
In supporting the development of capabilities such as personal and social responsibility, environmental literacy, personal management and social cohesion, we help young people in becoming confident, responsible and courageous young adults; willing to take on any challenge and having the desire to create a positive impact on organisations, communities and the environment.
We celebrate the positive difference we make to today's world and tomorrows. And after more than 36 years, we have a lot to celebrate!
WE ARE PROUD OF OUR VALUES
Our values educate the world about our identity as an organisation. They communicate what we are about and set a standard and expectations.
The Outdoor Education Group's CEO, Richard Thornton, says, "Our values give purpose to every function carried out within our organisation. We know what we do is really powerful, and we can have an extraordinary impact. So, every single role in our organisation is critical to each of our values."
We are proud of your values - they make up our culture; they are what make our organisation one of a kind.
Guided by our values, The Outdoor Education Group works with schools across Australia, providing outdoor education experiences to strengthen curriculum and enhance student engagement. From camps, incursions, extended journeys to sequential programs and more. We bring education to life through unique and authentic learning experiences.