Empowering young people in the outdoors is what we do best. At The Outdoor Education Group, we guide discovery and growth in young Australians while working in some of the world's most stunning landscapes. Our people are the heart and soul of our organisation and our Outdoor Educators are a crucial part of our team. We believe in a culture of learning and continuous improvement not just for our participants but also for our team.
OUTDOOR EDUCATORS
Outdoor Educator is an important and impactful role, allowing you to share your knowledge and passion for the outdoors by guiding students in some of the most remarkable and unforgettable locations and venues around our beautiful country.

The Outdoor Education Group strive to empower our team to grow and develop, regardless of which pathway led them to us. In support of our teams' performance, we focus on both on-the-job training and facilitated learning environments.

There are numerous pathways for people to become Outdoor Educators and depending on your experience, we can find the right route for you.
WHAT DOES IT TAKE TO WORK IN THE OUTDOOR INDUSTRY?
Working in the outdoor industry is one of the most rewarding jobs you could find. You get to work with passionate, adventurous people, travel to some incredible places and get paid to enrich the lives of young Australians. If the following qualities resonate with you, a job in the outdoor industry might be perfect for you!
A love of the outdoors
A sense of adventure
A desire to learn outdoor activities and skills
A love of working with young people and making a difference in their lives
Strong leadership qualities
PATHWAY 1 – YOU DO NOT HOLD A DEGREE
OUTDOOR ESSENTIAL PRACTICE ACCESS, VOCATIONAL TRAINING AND ASSISTANT OUTDOOR EDUCATOR
Perhaps you're looking to make an exciting careers change. You may be a teacher or a childcare worker who loves the outdoors. As an Assistant Outdoor Educator or entry-level practitioner, we align your skills to our Outdoor Essential Practice (OEP) framework. OEP will guide you through the practical steps you need to deliver impactful and engaging outdoor education experiences.

As an entry-level practitioner, you will begin at OEP Access, our first OEP stage in the framework; here, you will develop your outdoor education skills with hands-on experience through well supported outdoor programs. You will have the ability to professionally grow at your own pace, with plenty of time in front of clients to consolidate your new skills. Through this pathway, you will participate in high-quality training with The Outdoor Education Group and develop valuable industry experience throughout your journey.
Rosie Hoinville, Outdoor Educator, says, "I have really appreciated OEP Access because it has given me a stepping stone into the industry and was such a fun and unique way to start a job. Camping out, raft building and all the other things we got to experience in our training got me excited for the job and created a special bond between us as trainees. Everyone has been super welcoming, and I have always felt supported by my peers and leaders. I feel like I have found my people."

PATHWAY 2 – YOU WANT TO STUDY OR ARE STILL STUDYING
TRAINEESHIPS
As a Trainee, you will lead camp-based outdoor education programs while studying and training towards a Nationally Recognised Certificate IV in Outdoor Leadership. There are no pre-requisites for enrolment into the traineeship so long as you pass a pre-interview with The Outdoor Education Group and display passion and enthusiasm.

Trainees complete the Certificate IV in Outdoor Leadership which has 27 units and incorporates high-quality industry experience through working and training with The Outdoor Education Group.

Trainees work closely throughout their studies with experienced members of The Outdoor Education Group and are provided with all the knowledge and skills required to lead others in the outdoors. Upon completion of your traineeship, there are many opportunities for outdoor education jobs and career progression.
James Ladd completed his traineeship and said, "As someone with a passion for the outdoors, learning and educating young people, doing the traineeship was the perfect option. Throughout the 18 months, I met the best trainers, colleagues and visited some incredible locations, all while being paid! Not only did I gain industry experience and lifelong friends, but I also came out with a Nationally Recognised Certificate IV in Outdoor Recreation. What began as a dabble in the outdoor industry has turned into a fulfilling career and job, with many skills gained in various areas, from rock climbing and to project managing."
INTERNSHIPS
As an Intern, you will lead various outdoor education programs while studying towards a Bachelor of Outdoor Leadership (SBOL), which provides you with all the knowledge, training, and skills you will need to lead others in the outdoors. In addition, you will work closely throughout their degree with experienced members of The Outdoor Education Group team.

Internships empower students to put their learning into practice, continually strengthening their industry knowledge, skills, and professional behaviour.

The Outdoor Education Group partnership with Victoria University is the first of its kind, with an integrated working internship as part of an outdoor leadership degree. Our innovative approach has been highly successful, and this program continues to develop and grow today.

The Bachelor of Outdoor Leadership internship is a 3-year program. First-year interns are engaged in 8 units of study, including facilitated incursions and delivery in the workplace. At the end of first-year, interns have gained the experience to participate in the workforce at entry-level positions. During their second and third years, interns work part-time with The Outdoor Education Group while completing their degrees.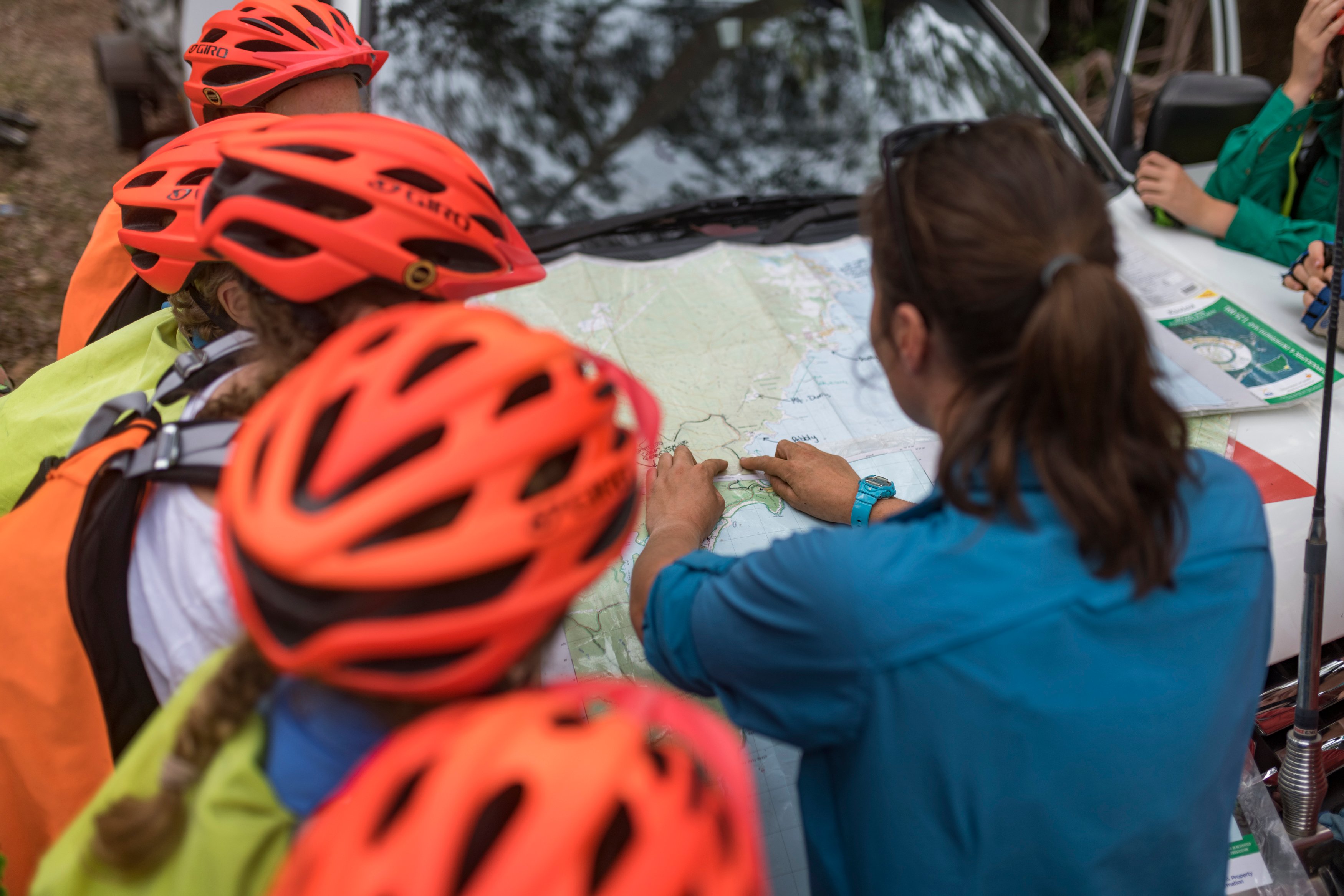 PATHWAY 3 – YOU ARE AN OUTDOOR EDUCATION GRADUATE
OUTDOOR EDUCATORS, ACTIVITY SUPPORTS, COURSE COORDINATORS OR TRAINERS
After you have completed your studies, you can begin a rewarding career here at The Outdoor Education Group. Our development plan for employees means there is a pathway for you, whether you are have recently graduated or an experienced practitioner.

At the Outdoor Education Group, we set our team members on rewarding pathways depending on their skills and experience; we align these skills with our OEP framework.

Following the OEP framework, you will learn about delivery, facilitation and how to provide the best outdoor education experiences.
The OEP framework covers 3 areas: Outdoor Leadership, Education and Group Management and Logistics.
Outdoor Leadership will ensure you can support learner-centred leadership, work effectively with school staff, colleagues, and external providers, and use feedback, self-reflection, and resources to grow professionally.
Education will ensure that you are confident in planning and delivering learner-focused experiences, supporting and engaging different learners, and creating opportunities for active participation, reflection and transfer of learning aligned with program outcomes.
Group Management and Logistics teaches how to manage group behaviour for emotional and physical safety, understand and use risk and logistics systems, and use risk and logistics management strategies.
Outdoor Essential Practice falls into 4 levels depending on your role, experience, and skills. These are:
Outdoor Essential Practice falls into 4 levels depending on your role, experience, and skills. These are:
Outdoor Essential Practice Level 1 – Outdoor Educator
Outdoor Essential Practice Level 2 - Activity Support
Outdoor Essential Practice Level 3 - Course Coordinator
Outdoor Essential Practice Level 4 - Trainer

Daniel Patterson, Outdoor Educator, has obtained OEP 1, 2 and 3 and says, "My employment with The Outdoor Education Group has provided enriched opportunities for tailoring my professional and personal development as an Outdoor Educator, providing direction in future pathways within the organisation and industry. My goal is to leading and mentor other Outdoor Educators, so I work alongside others in the field, highlighting and facilitating the importance of our impacts with students in natural places."

PATHWAY 4 – YOU HAVE INDUSTRY EXPERIENCE - RECOGNISED PRIOR LEARNING (RPL)
ENTRY-LEVEL TO EXPERIENCED OUTDOOR EDUCATORS AND PRACTITIONERS
The Outdoor Education Group understands staff entering the organisation bring with them valuable industry skills and life experiences. At The Outdoor Education Group, we celebrate and recognise the existing skills and experiences carried into the organisation through our Recognised Prior Learning (RPL) Application Process.
Using industry benchmarks outlined within the National Training Package (Australian system for vocational education and training (VET) under the Australian Quality Training Framework (AQTF)), we will RPL your Technical Skills and ensure you are enrolled in the appropriate induction path.
WHAT'S YOUR NEXT ADVENTURE?
The Outdoor education Group values dynamic people who bring passion and energy to our vibrant organisation. No matter what path led you to consider a job in the outdoors, we are here to support you in developing your skills and reaching your career goals, whatever your experience and abilities.