School camps play a vital role in the development of students of all ages. When implemented well, school camps provide countless benefits for your students. However, finding the right experience to suit your teaching staff, your student's educational needs and to complement and strengthen your curriculum can be a real challenge. The Outdoor Education Group are school camp experts delivering education camp programs to more than 48,000 Australian students each year.
GETTING THE SCHOOL CAMP EXPERIENCE RIGHT
We know education is not just about lessons within the four walls of the classroom. School camps provide an exciting and inclusive environment for young people to be active, develop competence in life skills, learn about and enhance their abilities, and benefit from meaningful participation in a setting designed just for them.
The outdoor environment encourages skills such as problem-solving, independence, negotiating risk and social and emotional skills – all essential for student development.
School camps provide a significant opportunity to enhance student learning and wellbeing; therefore, selecting the right experience through a specialist provider is vital.
Partnering with the right provider will ensure your students get the most out of their school camp experience. An expert school camp provider will:
Empower your students to thrive by building core skills for their future.

Strengthen and enhance curriculum outcomes by creating an educational overlay and matrix across your camp program.

Reduce risk with extensive risk management procedures and tools.

Can scale your students' experience, no matter how big or small your group is.

Deliver seamless and superior student impact through trusted systems and end-to-end processes.
AN EASY AND EXPERT CHOICE FOR YOUR NEXT SCHOOL CAMP
By prioritising outcomes and impact, school camp can be so much more than simply fun. Our school camps support student learning and engagement; they are designed to complement your curriculum and teaching frameworks to deliver social, physical and psychological outcomes by bringing education to life.
Year 8 Newcastle Grammar student said "Camp was an awesome experience. I tried things I'd never done before. I had heaps of fun and learnt so much about myself."
We understand each learner is different. The Outdoor Education Group's programs cater to all personality and learning types by providing a wide variety of outdoor activities allowing each individual to shine. We offer activities such as:
Raft-building

High and low ropes course

Indigenous cultural sessions

Navigation and orienteering

Environmental literacy initiatives

Abseil and climbing

Cycling

Canoeing

Food preparation and cooking and more
We allow space for learnings to be fully realised during group discussions or reflection time around the campfire.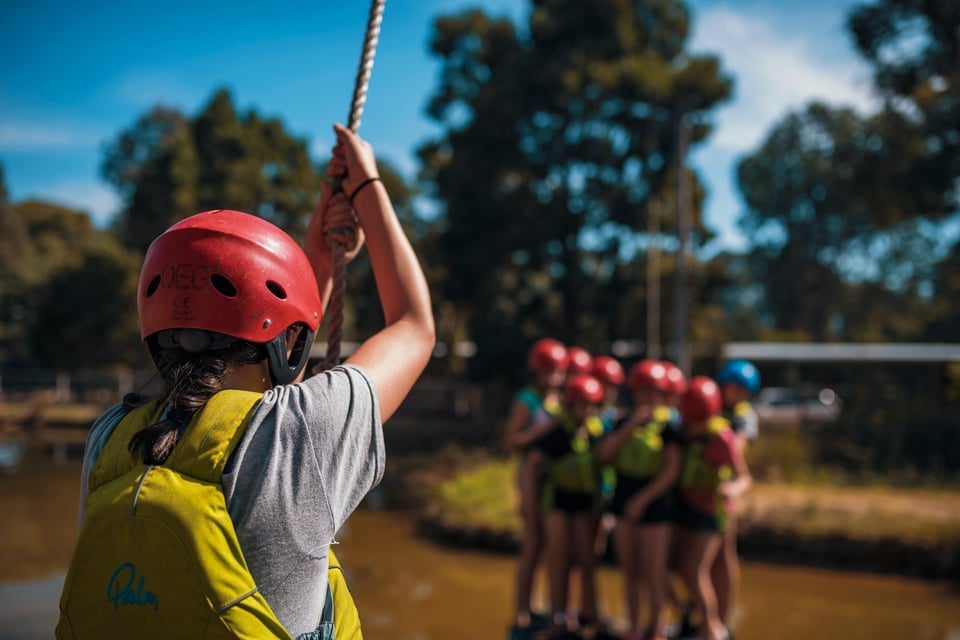 Year 5 Perth College student said "Nature is wonderful! I learnt I can take on any challenge that stands in front of me."
Our school camp experiences are an effective stand-alone educational tool; however, they also provide a long-term solution to student development through sequential programs. Sequential experiences introduce your students to varying and age-appropriate adventures and activities, enabling growth and development from one year to the next.
We understand teaching staff make a considerable personal contribution in going away on school camp; that's why we ensure the teacher experience is a pleasant and comfortable one. With dedicated and purpose-built accommodation featuring some creature comforts, we go the extra mile, so everyone leaves camp with fond memories and a smile on their face.
GETTING SCHOOL CAMP JUST RIGHT CAN BE DIFFICULT, BUT IT DOESN'T HAVE TO BE
When you partner with The Outdoor Education Group, you will be supported every step of the way from inception to completion. To alleviate concern in all parties and demystify the camp experience for students, we are committed to providing you with all relevant information for your school community and your parent body.
We also ensure your team and students are fully supported while on program. With the collection and review of medical information, we accommodate students with specific needs and provide appropriate activities for all students' abilities. We will provide you with a Course Coordinator and/or a Field Duty Manager who are on call 24-hours a day. These individuals support the staff and student's needs on program monitoring weather conditions, coordinating incident responses and liaising with your school.
Getting your school camp just right can be difficult, but we can make it easy! With camp venues in Victoria, New South Wales, Western Australia and South Australia and tours available by appointment, The Outdoor Education Group will provide your students with a meaningful and impactful school camp experience. We take care of the finer details and guide you through expert recommendations, saving you time and energy.
Discover the right camp for your school community with the Outdoor Education Group.