We'd like you to meet Erin O'Reilly, The Outdoor Education Group's Risk Management Coordinator! As part of their role, Erin regularly takes on the task of acting as Field Duty Manager. While programs are running, the Field Duty Manager works as a 24 hour-a-day on-call support for groups in the field. We sat down for a tea and a chat with Erin to understand just what the Field Duty Manager does, what their day looks like, their responsibilities and to get a look at the famous Field Duty Manager's phone!
WHAT IS THE ROLE OF THE FIELD DUTY MANAGER?
The Field Duty Manager (FDM) function is shared between managers across our Outdoor Learning Directorate and the Risk Management team, providing 24-hour support for all programs in the field and forming part of the emergency response and support systems.
Working in shifts from Monday – Thursday or Thursday – Monday, the FDM functions as a conduit of information in and out of the field; they monitor environmental conditions and factors, provide updates, information and advice to the field, collect and collate information and support those directly supporting our participants.
HOW DID YOU GET INTO THE RISK FIELD?
I started as an Outdoor Educator with another organisation. In 2016, I joined The Outdoor Education Group as an Embedded Program Coordinator, meaning I was based physically in one of our partner schools. I had never heard of a role like this and it appealed to me.
I got to a point in my role where I felt very comfortable – I knew the ins and outs and was keen for a fresh challenge. I also felt I wanted to contribute to the organisation holistically and support more students to connect with the outdoors, specifically those who felt they might not be able to due to limitations around their abilities or medical conditions; this was a big motivator.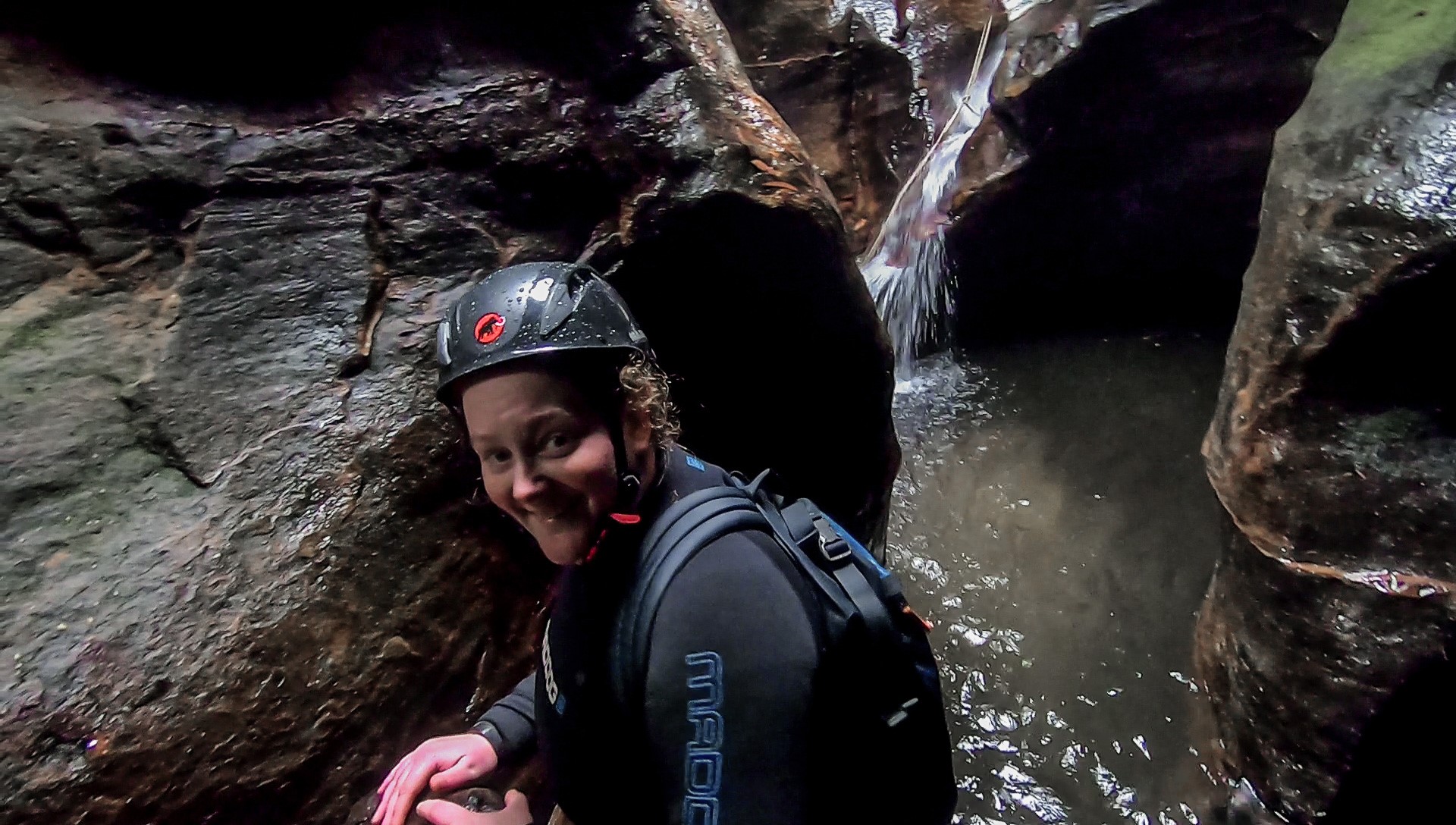 WHAT DOES AN FDM'S TYPICAL DAY LOOK LIKE?
As FDM, my day will start between 7:00 – 7:30 am. I will provide scheduled weather updates twice daily to our Field team. So, first thing in the morning, I check fire danger ratings, changing environmental conditions, including air quality forecasts, extreme heat and severe weather warnings, pollen count, fire danger and health advisories for all venues we are operating in on that day – I always have a tab open for each of these on my computer. If any of these are elevated, for example, if the pollen count is moderate or high, this is communicated to the Course Coordinator.
If it's not time-sensitive, I like to text rather than call as it allows me to deliver information succinctly. During these morning exchanges, I may receive some questions and often use our systems to provide answers. For example, the most recent question I received was locating the nearest dentist as a student on program had a toothache.
I will continue to monitor environmental conditions throughout the day.
We use an extensive logging system noting all our inbound and outbound communications, including internal and external communication, such as exchanges with coach companies, the school, and our team in the field. We also log all the conditions we have checked even in the case of a pertinent negative; these are checks covering non-elevated occurrences – we log the fact that there are no severe weather warnings so we can be sure we have checked everything; this is important.
Then I like to make a cup of tea, usually peppermint.
At this point, I would expect to receive responses to the texts I had sent. We use a 3-way communication system – the instigator (FDM) sends a text out regarding weather. For example, the recipient then confirms they've received my message, then I acknowledge I've received theirs.
I remain poised to receive communications at all times. Sometimes a Course Coordinator wants to run an idea past me; sometimes, they want to confirm coach arrival and location. Sometimes there is no action required on my end, but it's essential the FDM remains vigilant.
The Bureau of Meteorology issue updates at 4 pm; around this time, I provide the day's second weather update to the Field team.
In the evenings, I contact any Course Coordinators out on Journey programs; they generally operate solo most days, so we like to check in on their wellbeing. Sometimes we'll chat about their day, what they're having for dinner, or how the groups are going.
Because FDM is a 24-hour on-call role, the FDM phone has to be monitored at all times. When I first began taking on the role, I did not feel comfortable leaving my house in the evenings. Now I have some experience, I'm fine with going out in the evenings. I always have my laptop in my car and the phone and notebook on me, so if I'm out to dinner or going bouldering, I'm able to zip back to the car, provide support and log the communication.
TELL US ABOUT THE TYPICAL CALLS YOU RECEIVE?
We may receive a call about a student presenting with an illness or a minor injury like a sprained ankle and we would talk through a plan of action. We may look at booking appointments through doctors or hospitals. But we must consider access, several different scenarios, the school's tolerance and approach and the family's preference.
We may receive calls about resources, for example, a flat tyre, a broken jockey wheel or overnight accommodation for a Course Coordinator when it is not appropriate for them to travel. In all these instances, we provide support.
We might receive an after-hours call about a team member who is unwell and is unable to come on program the following day. It's a real mixed bag.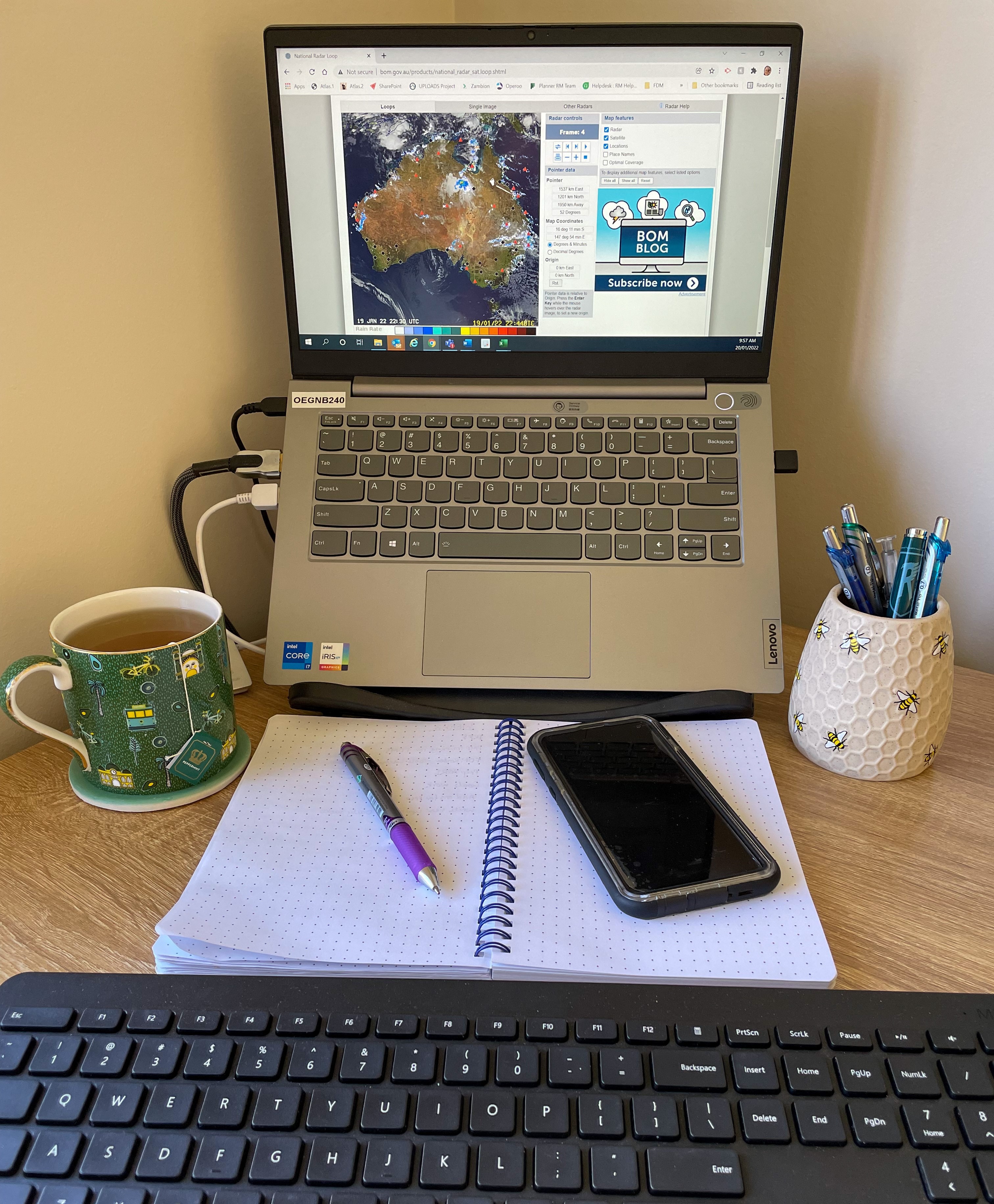 WHAT ARE THE SKILLS AND ATTRIBUTES REQUIRED FOR AN FDM?
An FDM needs to find a happy balance between giving directions to people who may find themselves a little off track and being very empathetic and approachable. As primary support, I will often need to advise people their plan is not viable, to pursue a different avenue or look at an alternative solution while maintaining a positive relationship, so they feel supported.
Personally, I do a lot of validating as FDM. Our team out in the field are often required to make decisions quickly or under pressure, which might impact their decision-making, and sometimes people just have a tough time. I've found saying, "Yeah, that was tough, but you did a great job," is helpful and one simple way I can provide support.
An FDM also has to be willing to say – 'I don't know' and source the answers. When I train new FDM operators, one of the big things I try to instil in them is they don't need to know everything about the organisation, but what they need to know is who to get answers from.
WHAT ASPECTS OF YOUR ROLE AS FDM DO YOU ENJOY MOST?
I've been a Course Coordinator before; I know what it's like and understand the importance of the role of FDM for people in that position. Often people only call us when they have problems – big or small. It's always nice to know somebody has your back; that's what I enjoy most – helping people feel supported.
WHAT IS YOUR ROLE DURING A CRITICAL INCIDENT?
Once an incident reaches a certain threshold, it may trigger a coordinated critical incident response. The Critical Incident Response Team is an established process involving trained members across many different departments who manage the incident. The FDM provides the initial trigger.
In a critical incident, for example, a non-emergent evacuation of a group, I would gather as much information as possible and ask many questions to get a clear picture of what is happening on the ground. I provide the information package to the Critical Incident Response Team and am given some initial direction.
Depending on the number of programs we have in the field and the environmental conditions, I may be instructed to join the Critical Incident Response Team or be asked to continue with my FDM duties.
TELL US SOME INTERESTING FACTS ABOUT THE FDM ROLE
The team monitors the phone about 350 days a year. I got my first phone call today at 7:00 am and last night, I took my last one at 9:00 pm. Today, I've received 22 phone calls and it's only 4 pm.
There's a long-standing legend around the role of FDM - the power of jinxes are real! If it's a quiet day, no matter what we do, we do not tell anyone it's a quiet day because we know our day will ramp up immediately if we do!